Is there any other ingredient that is more obsessive than pumpkin in the fall? I wasn't so crazy about pumpkin last year, but this year all I want is some pumpkin spiced lattes and pumpkin, pumpkin, and more pumpkin.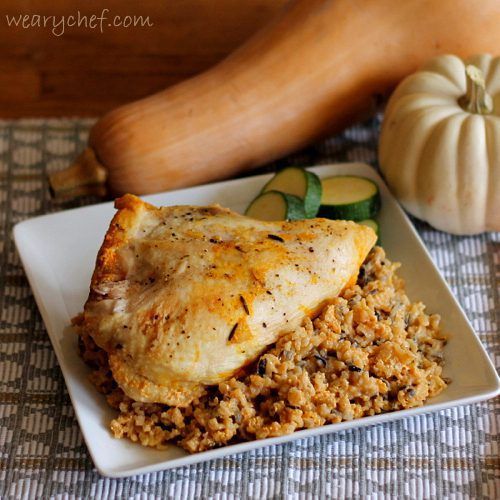 PUMPKIN DINNER
Last week I made my very first (for our new home) home-cooked meal, which was a Baked Chicken with Pumpkin Rice from
The Weary Chef
. I will admit it took much longer to make this dish considering I had not unpacked all the kitchen items. Since I had not yet unpacked I may not have measured the liquids properly, but my boyfriend liked it and in the end that's all that really matters.
PUMPKIN BEER
This past weekend we celebrated a friend's birthday at Arooga's in Harrisburg. They had a promotion that night that included a sampling of five pumpkin flavored beers for $8. It seemed like a great way to try different beers, but it also seemed more chaotic than it was worth. I decided to just go for it and I ordered the Imperial Pumpkin Ale by Southern Tier Brewing Company and then the Baked Pumpkin Ale by the
Lancaster Brewing Company
. Both beers exceeded my expectations. I really want to make a trip to the Brewery in Lancaster for a date night, but I may be swinging by before that to pick up some beer for ourselves.
PUMPKIN COMFORT FOOD
This week I am planning to make a Pumpkin Macaroni & Cheese dish in honor of my sister visiting me over the weekend. I can't decide which recipe I want to follow because they all look so good. Here are the top three recipes I found from other bloggers;
Gimme Some Oven
,
Confessions of a Chocoholic
, or
Brooklyn Farm Girl
.
So I ask again, is there any other ingredient that compares to pumpkin? Oh and my sister and I are headed to the Turkey Hill Experience on Sunday where we get to make our own ice cream. I might just make some pumpkin ice cream. Champagne wishes and
PUMPKIN dreams!